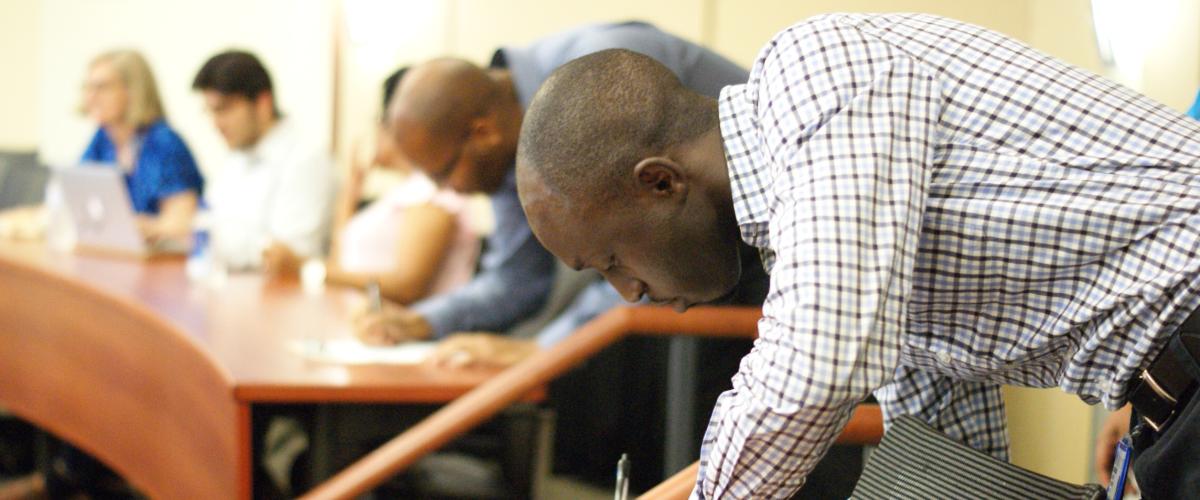 Co-sponsored by the Duke Center for Research to Advance Healthcare Equity (REACH Equity) and the Center for Community and Population Health Improvement, the Health Disparities Research Works in Progress (RWIP) is a seminar series that occurs on the first and third Mondays of each month from September 19, 2022 – June 19, 2023, from 12:00 p.m. to 1:00 p.m.

These interactive seminars and workshops feature talks from junior and senior faculty investigators about current research and projects in development. The seminars include opportunities for questions and feedback from attendees. Please refer to the table below for information about presenters and topics. 
We will be updating this page with the full 2022-2023 schedule soon! Thank you for your patience.
---
To subscribe or unsubscribe to our listserv:
Go to the Duke University Mailing Lists website: https://lists.duke.edu/sympa/home

Click "Duke NetID login" in the upper right corner of the page
Once you are logged in, under "Search for Lists" type: researchworksinprogress (no spaces, all lower case)
When results appear, click on link to researchworksinprogress@duke.edu
From that page you can add or delete yourself from the listserv.
Seminars are being offered on Zoom only until further notice. The Zoom link is provided to listserv subscribers through email updates. Please contact Tia Mitchell (tia.mitchell@duke.edu) with questions.
---
Date
Presenter
Topic
Location
Sept. 19, 2022
Opeyemi Olabisi, MD, PhD
Assistant Professor, Division of Nephrology (Dept. of Medicine)

Reducing The Burden of Kidney Disease in The Black Community Through CARE and JUSTICE

Zoom
Oct. 3, 2022
Victoria Parente, MD, MPH
Assistant Professor of Pediatrics
Dept. of Pediatrics (School of Medicine)
Inclusive and Equitable Communication with Families in the Hospital
Zoom
Oct. 17, 2022
Naomi Duke, MD, PhD, MPH
Associate Professor of Pediatrics and Sociology
Dept. of Pediatrics (School of Medicine)

Advancing Equity in Youth Positive Future Orientation

Zoom
Nov. 7, 2022

Shanti Narayanasamy, MBBS
Global Health Fellow
Duke Center for Hubert-Yeargan Center for Global Health

Attending to Race: Exploring How Faculty, Trainees and Medical Students Operationalize Race in Medicine
Zoom
Nov. 21, 2022
Maria Marquine, PhD, MA
Instructor
Dept. of Medicine
Research Productivity and Well-Being Among Underrepresented Early Career Scientists During the COVID-19 Pandemic
Zoom
Dec. 5, 2022
Schenita Randolph, PhD
Associate Professor
School of Nursing

Nurse-led, Non-traditional Models of Care to Transform Health and Advance Equity in Black/African American Communities

Zoom
Dec. 19, 2022
Nadine Barrett, PhD
Assistant Professor
Dept. of Family and Community Health 
Cancelled
Zoom
Jan. 9, 2023
Matthew Sinclair, MD
REACH Equity CDA Scholar
Medical Instructor, Division of Nephrology (Dept. of Medicine)

Improving Screening and Therapy Provision among Hispanics at Risk for Chronic Kidney Disease

Zoom
Jan. 23, 2023
Deepshikha Ashana, MD, MBA, MS
Assistant Professor, Division of Pulmonary, Allergy, and Critical Care (Dept. of Medicine)

Racial Disparities in Shared Decision Making in the Intensive Care Unit

Zoom
Feb. 6, 2023

Laura Svetkey, MD, MHS
Professor of Medicine
Duke University Department of Medicine
Division of Nephrology

Sarah Wilson, PhD
Assistant Professor
Duke University Department of Psychiatry and Behavioral Sciences Behavioral Medicine & Neurosciences Division

Mitigating Implicit Bias in Clinical Care

Zoom
Feb. 20, 2023
Charles Muiruri, PhD
Medical Instructor, Population Health Sciences
Assistant Research Professor of Global Health
Duke Global Health Institute
 

Improving Outcomes for People with HIV and Comorbid Cardiovascular Disease

Zoom
Mar. 6, 2023
Isaac Smith, MD
REACH Equity CDA Scholar
Medical Instructor, Division of Rheumatology and Immunology (Dept. of Medicine)

Health Disparities in Cardiovascular Disease Prevention Among Patients with Rheumatoid Arthritis

Zoom
Mar. 20, 2023

Michael Cary, PhD, RN
Associate Professor 
Elizabeth C. Clipp Term Chair of Nursing
Duke University School of Nursing

Sophia Bessias, MPH, MSA
Evaluation Lead
Algorithm-Based Clinical Decision Support (ABCDS) Oversight Program
Duke AI Health

Identifying and Mitigating Racial Bias in Clinical Algorithms: A Call to Action

Zoom
Apr. 3, 2023
Monique Anderson Starks, MD
Associate Professor, Division of Cardiology (Dept. of Medicine)
TBD
Zoom
Apr. 17, 2023
TBD
TBD
Zoom
May 1, 2023
Lance Okeke, MD
Assistant Professor, Division of Infectious Diseases (Dept. of Medicine)
TBD
Zoom